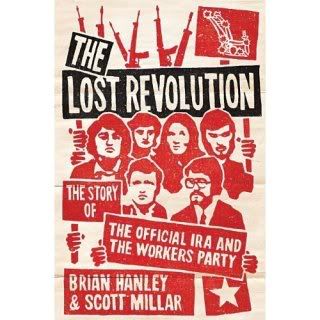 Anyone who found this post about Sean Garland and his recent legal difficulties interesting may also be interested to know that the first full length history of Official Irish Republicanism, from before the Provisional split to the present, is to be published this week.
There's no shortage of books about their Provisional splinter group, but despite becoming, as the Workers Party, a mainstream political party in the Republic at one point there's a real dearth of academic work about the Officials. There hasn't even been a good popular history book covering their whole lifespan. Instead those who are interested have been left with Sean Swan's interesting but narrowly focused "Official Irish Republicanism: 1962-1972″, some chapters in Henry Patterson's "The Politics of Illusion" and various other bits and pieces. A recent, and not very useful, addition to the literature was a pair of articles in the Critique journal,  under the title "Revisionist Marxism in Ireland" which seem to have relied in large part on interviews with people with a very antagonistic history with the Officials.
Hopefully this new book, "The Lost Revolution: The Official IRA and the Workers Party" by Brian Hanley and Scott Millar will give us a good overall account and fill in some of the many of the gaps. Hanley is a history lecturer at Queen's University Belfast, while Millar is an Irish Examiner journalist. Pre-release media coveragehas already revealed some interesting details.
The Irish edition of the Sunday Times this week contained a lengthy extract dealing with the influence wielded by Sinn Fein – The Workers Party in RTE, the state broadcaster, during the 1980s. Monday's Irish Examiner has an article by Millar with some interesting claims about the Irish government helping to arm the IRA at the start of the Troubles and details of an Irish cabinet memo from 1969 which talked of plans to encourage a left/right split in the IRA.